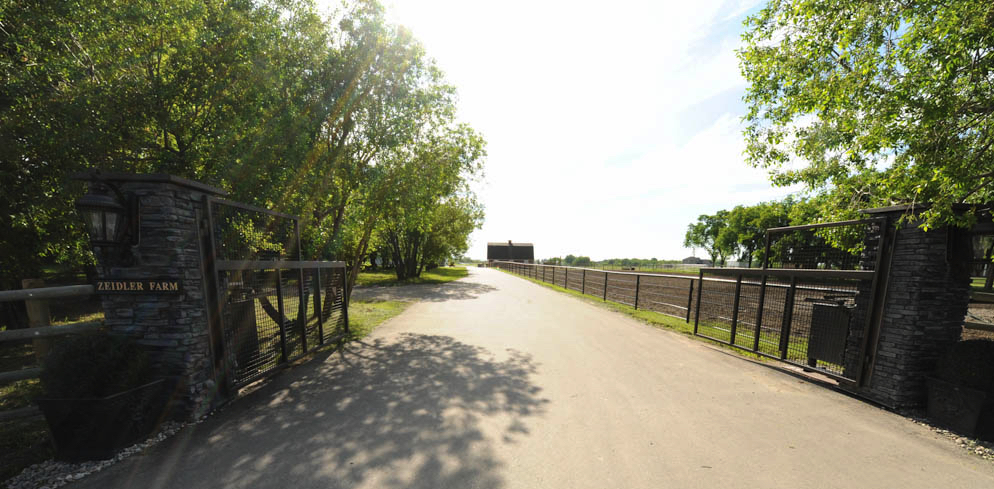 Zeidler Farm Canada is a state-of-the-art horse training, breeding and show facility located in Calgary, Alberta. The farm is just 10 minutes south of the world famous Spruce Meadows.
The Zeidler facility is a horseman's dream with an international level grass grand prix field that features natural jumps. The different types of obstacles include a bank, grob, table, water jump and double liverpools. The grass ring is complemented by two large outdoor all-weather rings. The facility also features numerous grass and all weather paddocks and turn out fields.
Thoughtfully designed and planned, the oversized indoor area exhibits elegance and boasts many environmentally innovative features including lots of natural light. The white French footing is by renowned footing specialists NARS.
Breeding
Beginning in 2005, Zeidler Farm hosted a world-class breeding program. Zeidler Farm's immense devotion to raising and training homebred horses yielded impressive international results, which brought universal acclaim to the program. While Zeidler Farm is no longer actively breeding, all Zeidler Farm horses are available for purchase.
For more information on the breeding program, click here. If you're interested in purchasing a Zeidler Farm bred horse, you can find contact information here.
International Horse Dealings
To match clients with their perfect partner, Zeidler Farm participates in buying and selling of horses at all riding levels. Whether it be to compete in 1.20m to 1.60m classes, we are devoted to finding the horse most suitable for the customer.
If you're interested in buying or selling a horse, you can find contact information here.
Training
Tani Zeidler offers an all-inclusive training program for all levels of riding. Riders of all ages will partake in one-on-one sit-down discussions to determine the individual's needs and goals in order to develop a program best suited to them. Each client is specifically catered to by their trainer, whether it be for recreational riding or for international competitions. With the option of providing your own horse, clients can choose between individual or group training sessions and arrive to their horses prepared for the class. Full training is also available for client's horses.
If you're interested in riding at any level, you can find our contact information here to set up a training session.
Sponsors